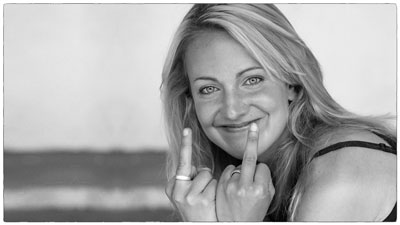 Way too much detail about Lesley:
I'm a little Scottish lassie who packs a mean punch! While growing up, my 'thing' was rugby…yes you heard it right, rugby! I loved to get dirty and I loved to fight boys. Being the only gal outta 250 boys in the squad, I learned pretty quickly how to take care of myself! However, as with most good things in life, it came to an end. I was too old to play with the boys, so I found an equally crazy sport called triathlon. Since the tender age of 14, I've competed all over the world for the British and Scottish triathlon team, developing awesome friendships and seeing some amazing parts of the world.
However, as most young athletes do, I got disillusioned with the sport. Sick of being last in drafting races and constantly banging my head off a brick wall with swimming, I gave it up! I met my husband, Simon Marshall, and together we moved out to San Diego. Yes, ironic that I should give up triathlon when actually moving to the birthplace of triathlon!
Always having been a creative little thing (I got my BA degree in Drama), I decided to do my Masters degree in Theater. I flourished under my new found career path and began climbing my next impossible ladder to success: Hollywood.  I started acting in student films and then independent films (so far I have 17 of them under my belt), until I met my now writing-producing partner Ian Stokell. Together we formed our own production company called Sliding Down Rainbows Entertainment Inc., and we have since produced several short films and our first feature film.
So, through all of this soul searching and artistic expression (not to mention 5 years of no sport),  I actually realized I missed competing. I started slowly with running (hey why not start with your strengths right?), and after winning a few races, I found that I had a different approach to the sport. I genuinely enjoyed training, I genuinely enjoyed racing and what's more, my body felt different. It felt more mature and I guess I had a better understanding of how it worked.
I didn't want to do drafting races anymore, I needed to find a sport that suited my strengths instead of crippling me because of my weaknesses….and that's when I found XTERRA. Dirt, hills and cool people! I'll have me some of that!
Most importantly, through understanding myself, I was able to form my own philosophy of training for endurance sport. This came about through teaming up with a wonderful friend and coach Vince Fichera. He taught me a way of training that revolutionized how I approached things and resulted in what I now call my special sauce.  It is with this special sauce that I developed my own coaching business, Braveheart Coaching.
With 3 off-road triathlon world titles to my name, I now want to impart the successes and failures as I help others grow to reach their potential!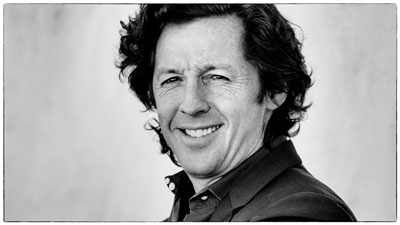 Way too much detail about Simon
I grew up in Zambia, Africa, and in different parts of the UK. My travelling childhood was spent obsessively playing soccer, rugby, and tennis, before I found competitive cycling. I started training and racing at age 12 and never really stopped.  As my dreams of becoming a professional cyclist faded, I decided to study sports science instead.  This led to rather lengthy collection of degrees that simply proved with science why "Simon" and "professional athlete" were destined never to be used in the same sentence.
After meeting Lesley on a training ride in the UK in 2001, I fell head over heels in love with her (literally, I crashed). Over the next year I even pretended to be slower than I actually was so we could ride together (which continues to this day). We got married in 2002 and we moved to the US a week later so I could start my new job as a professor of Exercise Science at San Diego State University. At SDSU I taught classes in sport and exercise psychology and was director of the graduate internship in sport psychology.  Over the past ten years, my professional interests moved more into public health, driven largely by a desire to use my brain training principles to help people with chronic diseases lead healthier more active lives. In 2011 I moved to UC San Diego as a professor of Family and Preventive Medicine, where I'm also the director of an exercise science performance lab that tests local athletes and trains physicians to use exercise as medicine.
For those obsessed with credentials and qualifications, here's a really boring bit: 
I have a bachelor's degree in Sports Science, a master's degree in Kinesiology, and a PhD in Sport and Exercise psychology.  For reasons I'm still baffled by, I'm an internationally renowned expert in exercise and health with a focus on changing people's behavior. I've published over 80 scientific articles (yawn) and book chapters (more yawn) about the science of health behavior change (cool). With awesome colleagues, I've been lucky enough to receive over $25 million in federal research grants examining how to help people live active, healthier and happier lives though physical activity and exercise. I'm a frequent invited keynote speaker at international conferences on physical activity, exercise and health, and I serve as an invited expert panelist for the US National Institutes of Health and the Centers for Disease Control and Prevention. However, I'm convinced that many of these invites are simply because I've got a British accent which makes me sound way smarter than I actually am.
When I'm not writing or speaking about brain training for sport, exercise and health, I compete in sprint distance triathlon. If "getting dropped by wife" was a Olympic event, I'd be unstoppable.